Get In Touch Questions? Comments? Concerns?
Address: 450 Acorn Lane, Downingtown PA 19335, USA
My name is Bill Harris and I'm the founder of Enhanced Pet Products.
When my beloved French Bulldogs, Lacey and Eva, were struggling to eat during mealtimes, I needed a solution that would keep them healthy and allow them to enjoy the food they were eating. I began designing a unique feeding bowl, the Enhanced Pet Bowl, which would transform their lives forever. Lacey and Eva's lives have been changed forever and for the better. I love my pets and I want every pet to be able to eat without struggling and to lead a happier and healthier lifestyle.
This Enhanced Pet Bowl is going to transform your dog's life forever and the way your dog eats. You'll see a healthier dog in less than 30 days. Guaranteed or your money back!
Every minute you wait is another minute your dog's lifespan reduces and your dog deserves to live a happier and healthier lifestyle---just like you.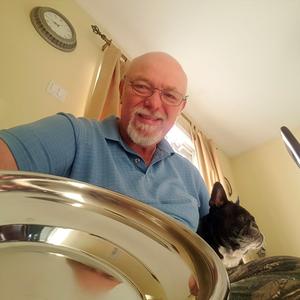 FREQUENTLY ASKED QUESTIONS
Where are my orders shipped from?

All orders are shipped from our warehouse in the Pensylvania, USA.

What is the diameter of each bowl?

The small, medium and large stainless steel bowls are 6, 10 and 11 inches respectively.

The bowl is 2.5 inches deep in its deepest section.  Here is a breakdown of how much food our bowls can hold. 

 

Small

 - Intended for cats and dogs between 5 - 20lbs, capable of holding less than 1 cup of kibble. (Cats, Shih Tzus, and similar breeds)

Medium

 - Intended for dogs between 20 - 55lbs, capable of holding 1 - 2.5 cups of kibble. (French Bulldogs and similar breeds) 

Large

 - Intended for dogs between 55 - 100lbs, capable of holding 3 - 5 cups of kibble. (English Bulldogs and similar breeds)

Can I purchase the bowl and stand?

Yes! Take advantage of our bundle package - and get both the bowl and stand for a great price!

What is your return policy?

Life happens, but we've got your back. If your bowl does not deliver the desired results after two weeks, you have 30 days to return it to us for a full product refund (minus the cost of shipping. Note, if you got free shipping on your order, there was a cost of shipping that we absorbed and an additional $9.00 will be deducted from your refund to reflect that). Please include your original 5 digit order number with your return. Once recieved, we will take at least two weeks to process your return and issue you a refund.

 

Please note that results may not be instant, and your dog may need to learn to adjust how they eat with the new bowl. We encourage you to give your pet at least 2 weeks to adjust to the new bowl.

How does the bowl fit on the stand?

For small and medium bowls, place the stand on the floor, with the larger ring on the bottom. The bowl would then sit on the top smaller ring, the opening in the stand can line up with the back ridge of the bowl or the flat front of the bowl, whichever way you find works better for your pet.


For large bowls, place the stand on the floor, with the smaller ring on the bottom. The bowl would then sit on larger ring, with the ridge at the opening of the stand.


If it's not fitting properly, try flipping the stand. Very rarely, there will be a bowl that doesn't fit on the stand properly. If this is the case, try pinching the opening in the stand when placing the bowl on the stand. This may take a few tries but eventually will take the form of the bowl.